CE: Nebraska Natural Legacy Conference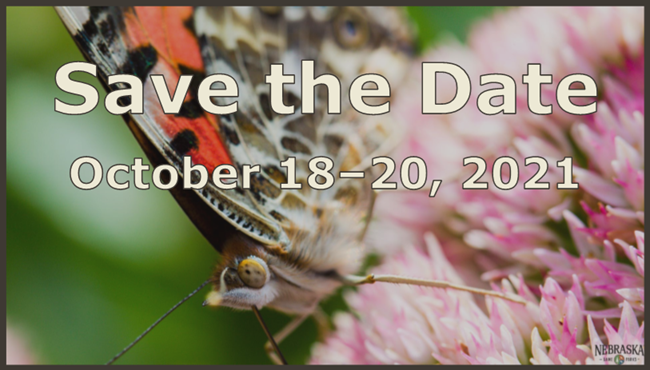 The 2021 Nebraska Natural Legacy Conference is now GOING COMPLETELY VIRTUAL via Zoom, October 18-20, 2021. We will no longer be meeting in-person at Chadron State College, but instead will be meeting online just like last year. We had record breaking attendance in 2020 and are looking forward to another wonderful conference! See below for three important notes about the upcoming conference.
2021 Nebraska Natural Legacy Conference Website: http://outdoornebraska.gov/2021-nebraska-natural-legacy-conference/
1. Registration is now open. Registration is free for this virtual conference. Attendance is open to anyone interested, regardless of location or occupation. The registration link can be found at the conference website and closes Wednesday, October 13, 2021.
2. Call for Presentations has been extended. You may submit an abstract or summary now until September 10, 2021. This is extended one week, with the understanding that more people are now likely able to present in the virtual format. See conference website for more details.
3. Natural Legacy Award nominations still being accepted. Please consider nominating someone for our Conservation Award or our Education Award. This year, we are giving additional consideration to private landowners/producers. Nomination forms can be found on the conference website and are due September 10, 2021.
Please share this email with others who may be interested.
We are looking forward to another great conference highlighting conservation in Nebraska. Hope to see you there!
Sarah
Sarah Nevison
Natural Legacy Biologist II
Nebraska Game and Parks Commission
2200 North 33rd Street
Lincoln, NE 68503
402-471-5708