CE: Nebraska Project WILD Facilitator Training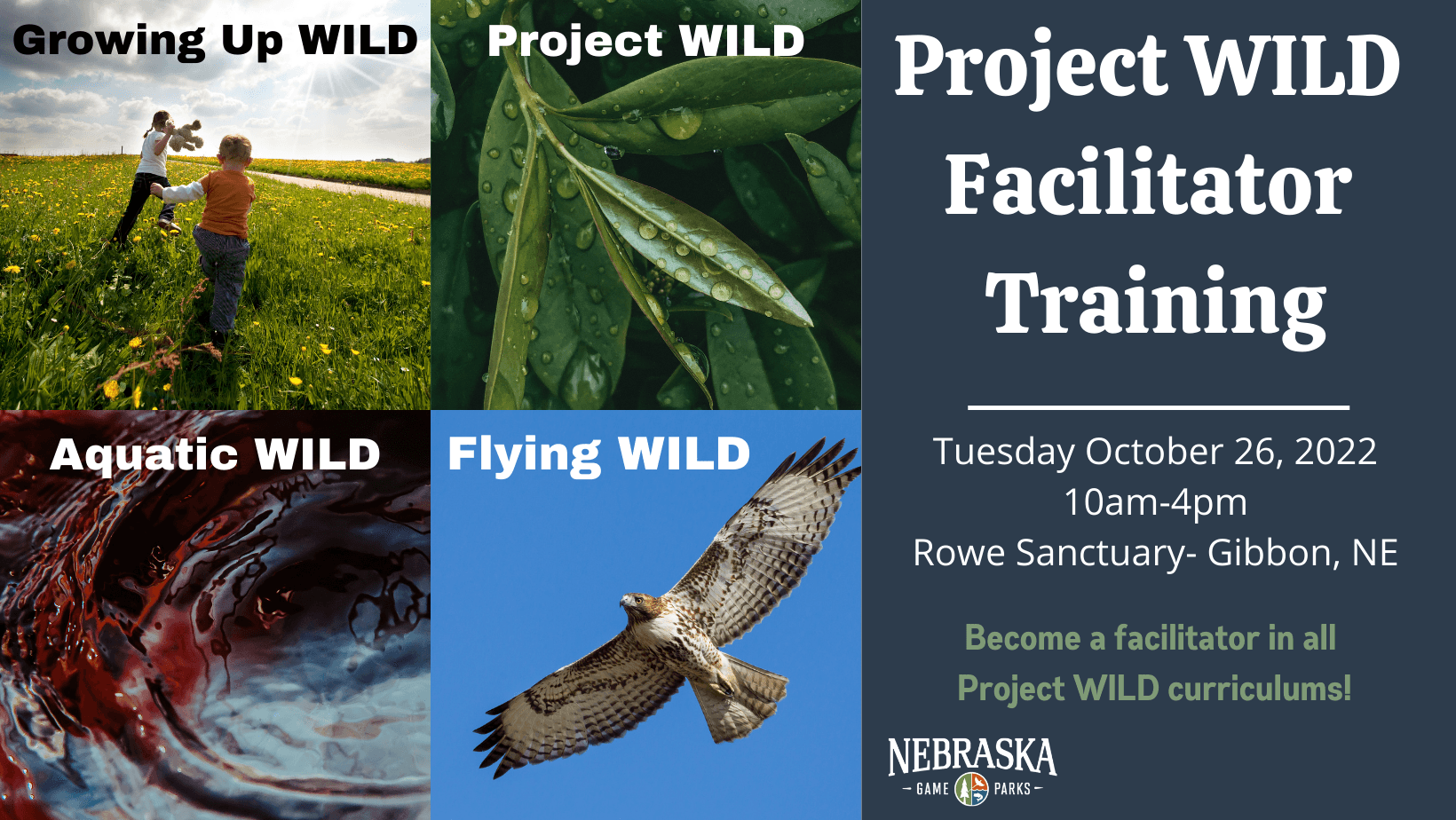 The Nebraska Project WILD program is looking for new facilitators! Our next facilitator training will be on Tuesday October 26, 2022 from 10am-4pm at Rowe Sanctuary. This is a FREE training and lunch is included. All participants will also receive a binder of information as well as a flash drive with all the information as well. Here you will learn the history of Project WILD, learn how to conduct engaging and interactive workshops (making agendas, advertising, how to use the activities, etc.) and how to interact with fellow facilitators.
What is a Project WILD facilitator?
Facilitators provide quality workshops to teachers and non-formal educators. They train participants to use Project WILD activities, show how to implement the guides in classroom and informal settings, and promote environmental and conservation education. Individuals interested in becoming a facilitator must be trained and certified in Project WILD. This is done through attending a facilitator's workshops. The workshop will train participants in how to use the Project's materials and how to become an effective and engaging workshop facilitator.
Who is Eligible?
Individuals eligible to become a Project WILD facilitator include anyone who has been trained in either Project WILD, Aquatic WILD, Growing Up WILD, or Flying WILD and is interested in actively supporting the programs by facilitating future workshops.
Requirements of Facilitators:
• Attend the day long facilitator training at Rowe Sanctuary on October 26th
• Plan and conduct a minimum of one workshop per year
• Work with the state coordinator to schedule, plan, and announce workshops
• Complete & submit all necessary paperwork
• Represent Project WILD in a professional manner
• Be objective and scientifically accurate
• Promote and encourage Project WILD, it's workshops and fellow facilitators.
If this sounds like something you are excited, passionate, and ready for…complete the survey link to register for the Facilitator Training now! Space is limited to 20 participants.
If you have any questions, comments or concerns please email monica.macoubrie@nebraska.gov (Nebraska Project WILD State Coordinator)