CE: Science of…Animal Teeth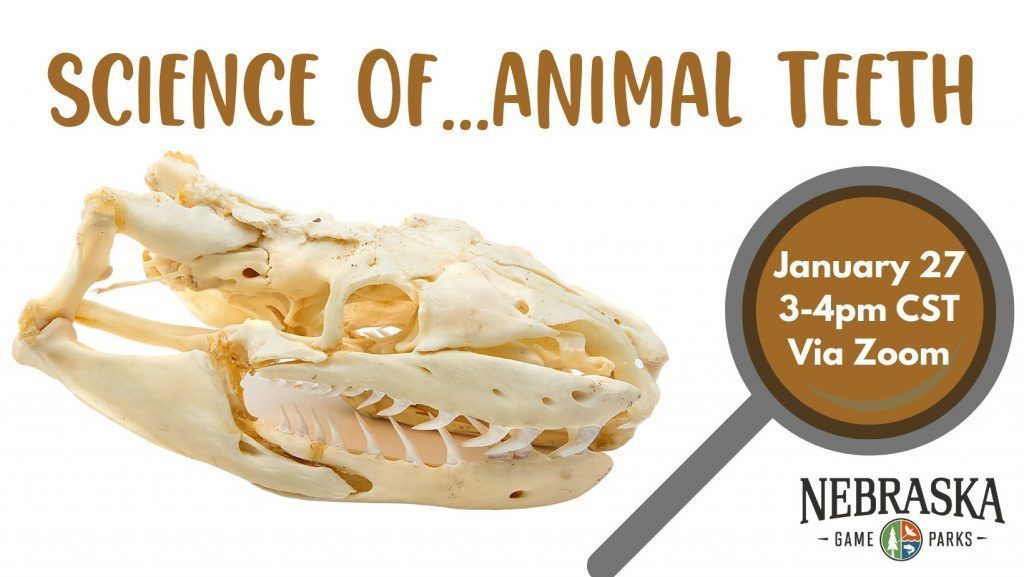 Smile! As humans we probably hear this and let our teeth beam for that family photo. But, would you feel the same if you're a rodent with orange teeth? Or, would you have a mouth large enough to hold 50 teeth like the Virginia Opossum?
Animal teeth, or the dentition (arrangement of the animals' teeth) is a huge indicator of what a specific animal is eating. Teeth also provide huge insight into the evolutionary heritage of that animal. Through this Science Of episode we will dive right into the mouth of many different animals here in Nebraska. What types of teeth do fish have? Do frogs have teeth? How strong is the bite force of a Mountain Lion? Join us and find out!
This event is FREE, but does require pre-registration:above
After registering, you will receive a confirmation email with more information for the event. Then, on the day and time of the event, use the link provided in the confirmation email and password to join us.
Unable to attend a live event? Each virtual webinar will be recorded and posted to the Nebraska Game and Parks YouTube Education Channel, here you can watch past recordings of the Science of as well!
Please contact monica.macoubrie@nebraska.gov for more information or questions. You can also check out the events on the Nebraska Game and Parks Outdoor Calendar and the Wildlife Education Facebook page.