Brice Krohn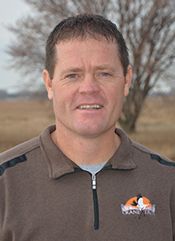 Brice Krohn obtained his Bachelor of Science Degree from the University of Nebraska at Kearney with an emphasis in wildlife management. He worked as a land manager for the US Fish and Wildlife Service for 11 years and gained extensive knowledge and experience conducting prescribed burns, fighting wildland fires, and working risk management in 22 states, including the Deepwater Horizon oil spill in the Gulf of Mexico.
Brice is currently the Vice President of the Crane Trust and oversees the daily operations of the complex.  At the Crane Trust, the mission is to protect and maintain the physical, hydrological, and biological integrity of the Platte River.  He has always been a strong proponent for partnerships to effectively collaborate the different creativeness, knowledge, skills, and abilities of all people, groups, and organizations to maintain, protect, and advocate for our resources.  He believes the Crane Trust's location allows a great opportunity to promote Nebraska's resources, while allowing an opportunity to hold events and showcase partnership work being done throughout the state.

Overall, as a steward of the land, Brice enjoys restoring and preserving a functioning prairie landscape so that his four children, and others can experience the pure beauty and importance of Mother Nature's role in our lives. He is very impressed with the Master Naturalist Program and foresees a very bright future for the program.  
e-mail Brice Krohn Executive Board Member